tl;dr: I visited Ristiina, a smallish Finnish village, on August 10, 2020 with my wife. This blog post is a brief summary of that trip.
Ristiina is a small village about 20 klicks south of Mikkeli. We've driven past it a few times this summer already, and today we decided to actually visit there.
In summary, Ristiina is much like most small villages in Finland: there isn't much to see or do, but during a warm summer day it doesn't really matter.
On our way in we drove around the residental areas a bit to get a feel for the village, stopped at the shops for supplies and visited the "marina" (which is a bit of an overstatement) for some traditional Finnish muurinpohjalettu (crêpes).
With our blood sugar levels sufficiently replenished, we hit the first actual sight in Ristiina: the church.
It's a wooden church, built in 1775, and to be honest it's quite a nice sight. As expected, due to Corona virus, we couldn't actually go inside the church, but at least we could enjoy the building from the outside and check out the surroundings.
To my layman's eye the most interesting feature of the church was the tarred wood shingle roof (paanukatto in Finnish). The southern side of the roof looked like it could use a new coat of tar.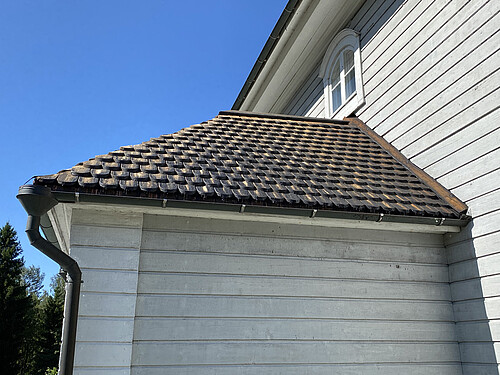 This side of the roof could use a new coat of tar
The church doesn't have a graveyard, but there is a cemetery located nearby. The backyard of the church hosts war memorials for the Finnish Civil War and the Winter War.
Next we headed to the ruins of Castle Brahe (Brahelinna). The ruins are situated on top of a nearby hill, overlooking all of Ristiina and the nearby areas.
There isn't much to see there these days, but in 1669 the site would've held an administrative centre for the entire province. The castle was torn down and/or demolished during the Great Northern War (isoviha) in the early 18th century.
The castle was commissioned by Count Per Brahe the Younger (Pietari Brahe) who himself was a central figure in the history Finland during the Swedish rule. Ristiina is named after his wife, Kristina Katarina Brahe, and elsewhere in Finland there is a town called Raahe (Brahestad in Swedish) which Brahe, being a modest fellow, named after himself.
Next to the castle ruins lies the aforementioned cemetery and a monument for J. Z. Duncker, a Swedish officer born in 1774 in Ristiina. Surprisingly there were reasonably fresh flowers at the monument, presumably commemorating his death on July 5th (back in 1809).
All in all Ristiina seemded like a nice place and I'm sure there are worse places to live in or visit, especially during summer. I'm sure we will visit there again.
- Niko